Here comes fall! Pumpkins, pansies, mums, fall veggies, and more. Check this page for details on our upcoming events or sign up for our emails.
You can also text "Homewood" to 77948 to sign up for text alerts! (about 1 message per month, a few extra in November.)
Earn Christmas Cash now thru Dec. 17!
For every $10 you spend now through Dec. 17th you get $1 in Christmas Cash. From Dec. 18th-23rd, you can redeem your coupons and spend them just like cash for up to 50% of the purchase price of any plant or product in stock! (excludes pine straw, gift cards, and services)
GET DOUBLE CASH ON SAT. OCT. 30TH! For every $10 you spend on Oct. 30th, you'll receive $2 in Christmas Cash!
We'll be featuring different specials on select gifts and decor every day from November 6th through 19th. Specials will be posted Friday, November 5th.
Poinsettia Open House is a Raleigh Christmas tradition! Join us for the official opening of our holiday greenhouses where you'll enjoy live music, while you stroll through thousands of Homewood-grown poinsettias with a refreshments to nosh and sip on. Get great holiday photos to use in Christmas greetings in one of our several photo ops. Then vote for your favorite poinsettias at our Poinsettia Vote Table, and enter a raffle for one of our huge floor plant poinsettias!
fall colors in stock! pumpkins, too!
Made in Winston-Salem, Dewey's Moravian Sugar Cakes are in stock!
Get 'em while you can!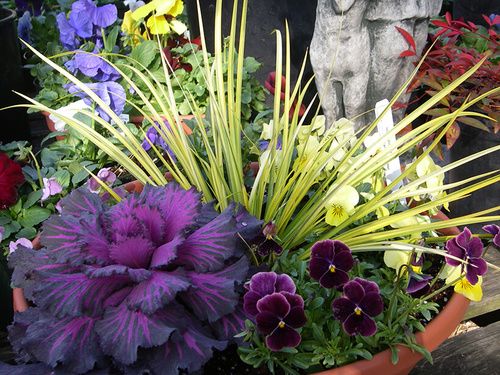 Fall container gardens
dress up the doorway and look great with pumpkins and gourds clustered around them. You can also
use them as focal points of color
on sunny porches and patios or even as a focal point in a garden bed.
Mums, pansies, golden sweet flag
, and
ornamental cabbages and kales
together with certain tropical plants such as
croton
and perennials with colors that go well with fall themes such as
heuchera
and
ornamental grasses
make pretty and colorful combinations that extend the gardening season through fall. You can create your own combinations using our selection, find pre-made containers in stock, or have a
custom container designed for you
!
Adams Apple pumpkin, cranberry, and apple butters in stock in the Gift Shop. Small business-made in South Carolina featuring simple ingredients. Fabulous on toast but also baked brie and for ham glazes.
Rent Boston ferns for your next event.
Having a special event? RENT HOMEWOOD BOSTON FERNS!
No one grows big, fat, AWESOME Boston Ferns like Homewood does, and now you can rent them for events! Boston Ferns add that serene green energy to parties, weddings, home showings, and more. Delivery and pick up available. Call us at (919) 847-0117 for more details!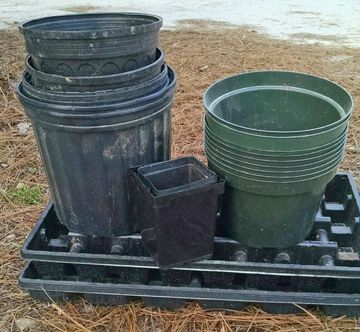 Folks, you don't even KNOW how long we've been wanting to offer recycling services for plastic nursery pots and trays! Forever it seems. But, we never could find a service that could accommodate us. Well, times have changed thankfully!
HERE ARE THE DETAILS:
Bins are located in the corner of our asphalt parking lot
- NO PLASTIC BAGS, PLEASE!
- If you bring pots in bags, please remove them from them before putting the pots in the bins.
- Please REMOVE AS MUCH DIRT as is reasonable. They don't have to be completely dirt-fee but dump out the excess.
- Remove labels
Get excellent gardening info at your fingertips with Dr. Dr. Allan Armitage's app!
Armitage's Great Perennials & Annuals
is a tool we at Homewood Nursery have wanted to provide for a long time. For both Apple and Android, the app
covers hundreds of plants, has over 400 pictures, and over 50 videos
. We strongly recommend it for all of our customers because it provides
easy-to-read information on many of the plants available in our store
and suggests the best variety for hundreds of plants backed up by years of personal and professional experience
. A "deer browsing" rating is provided
for almost every species, as well, something most gardeners around here really need! Pretty awesome deal for $4.99!
Just search "Armitage" in the App Store!